An interview with experts about urea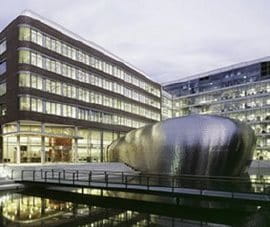 Hansaplast Centre for Research and Development
Dr. Ivan Bristow and Dr. Maike Kuhlmann are experts in keeping skin healthy and moisturised.
Dr Ivan Bristow and Dr Maike Kuhlmann are experts in keeping skin healthy and moisturized. Dr Bristow, an independent dermatological expert with extensive clinical experience, talks about the most common problems he encounters in practice and how urea works to replenish the moisture levels in our skin. Dr Kuhlmann, from Research & Development at Beiersdorf AG, who played an integral role in the development of the Hansaplast Regenerating Foot Cream with 10% UREA, tells us about the scientific background and testing that was conducted in order to create a product that offers optimal moisturization.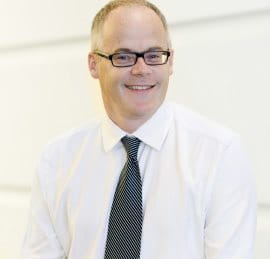 Dr Bristow Podiatrist and Dean at the Faculty of Podiatric Medicine, College of Podiatry, London, UK
What foot problems do you see most in your podiatric practice?
Dr. Ivan Bristow: The most common foot problem I see is thickened dry skin, or what we call hyperkeratosis in the profession. Hyperkeratosis nearly always starts as dry skin. One of the reasons for that is that we are standing on our feet all the time. The dry skin can then turn into hardened dry skin (hyperkeratosis), and that means it can become particularly uncomfortable and lead to problems.
What are the reasons for dry feet?
Dr Ivan Bristow: There are various reasons why people get dry skin. The most common one is that their skin is aging. The second reason is likely people's washing regime. The use of soaps, excessive showering or the use of shower gels can easily dry out the skin, with the feet being no exception. Dry skin related to aging and over-bathing is called "physiological dryness." For people with that sort of dry skin, the use of emollients and moisturizers is very important in order to replenish lost water back into the skin. But there are other possible triggers for dry skin. Fungal infections can be a cause or certain systemic conditions such as diabetes or thyroid problems. It is always important to find the cause of the dry feet.
The new Hansaplast Regenerating Foot Cream features 10% urea. What exactly is urea, and how does it help to smoothen dry feet?
Dr. Ivan Bristow: Urea is a substance that exists naturally in the upper layers of our skin, produced by the body through the breakdown of skin proteins. It plays an important role in the natural moisturizing factor (NMF) complex, keeping the skin constantly moisturized. Additional urea that is applied through a foot cream increases its hydration by attracting and binding water in the upper layers of the skin, known as the epidermis. It basically acts as a binding molecule. This is not only important for maintaining supple skin, but also to strengthen its protective function. In sum, urea is a a highly effective moisturizer.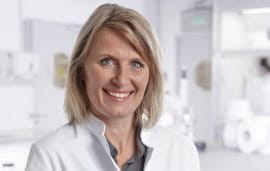 Dr Maike KuhlmannResearch & Development, Beiersdorf AG
Why is the Hansaplast Regenerating Foot Cream with 10% UREA such a effective product? What is its unique benefit compared to other products?
Dr. Maike Kuhlmann: The new Hansaplast Regenerating Foot Cream with 10% UREA offers optimal moisturization. It is of great importance to develop a product that perfectly matches the needs of the consumer who want to use the product on a regular basis. This has to include optimal moisturization and excellent skin tolerability, but also a texture that is easy and convenient to use. Our Regenerating Foot Cream has a pleasant scent and is easily absorbed. The high-performance 10% urea formula instantly softens the skin and helps to bind water – reducing dry skin and revealing smooth, beautiful feet.
What tests did you perform to assess the new Hansaplast Regenerating Foot Cream's effectiveness?
Dr. Maike Kuhlmann: The Hansaplast Regenerating Foot Cream with 10% UREA has been tested in dermatological studies. The formula has proven excellent efficacy and skin tolerability on extremely dry skin – for all participants including foot care for diabetics. A dermatological in-use study* demonstrated a significant decrease in skin dryness, scaling, and roughness. Corneometer measurements showed significantly improved skin hydration of 67% after only one week of daily use. And the participants perceived significant benefits from the test product. For example, 94% of all participants stated that the cream reduces the signs of very dry skin. 91% agreed that regular product use strengthens the skin's protective function. An impressive 100% said the cream provides a smooth skin feeling.